LabelTrace® is designed to allow GPs and nurses to print labels for specimens and request forms where and when they are required with near instant response. "Clear, accurate information – in seconds." LabelTrace® provides so many benefits for practice & laboratory staff that it has been adopted by more than 90% of Scottish practices, all Northern Ireland practices and all Welsh practices. There are now over 30,000 printers in daily use in over 4,000 practices across the U.K. The system is very low cost — requiring an investment of only a few hundred pounds to save hundreds of hours of staff time a year. It is also used in acute settings, community clinics, hospices etc.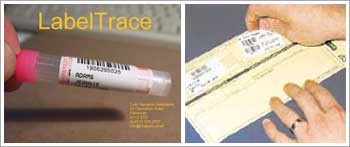 Utilising low cost dedicated label printers such as the Zebra ZD410 or the Brother QL-560, LabelTrace® has proven easy to use and has been acclaimed by nursing staff in particular as a real time saver.

It can require as few as two mouse clicks to print a set of labels, which are delivered in 1–2 seconds from making a request. Although developed originally for labelling request forms and specimens, you may design your own labels for mailing, registration and other relevant purposes. (detailed features/benefits)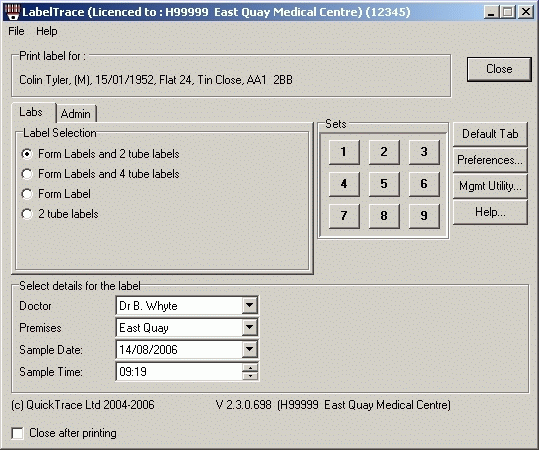 LabelTrace® operates directly on the patient data held in the practice's clinical system and is available directly from the consulting screen. To see how this looks in operation, click on the link for the system you use. If your system is not shown, please contact our office for an update on when a link to it will be available
In England and Wales, LabelTrace® is being marketed in collaboration with Codegate Ltd. E-Health Insider have published a Special Feature on LabelTrace® with excellent videos of users explaining why it has made a huge difference to their day.
LabelTrace® is now compatible with and fully supports the Brother QL-560 label printer. A detailed case study from Croston Village Surgery explains the significant benefits the practice found using LabelTrace® in conjunction with Brother label printers.
The remarkable success of
LabelTrace®
is summarised in a
Zebra case study
which is based on a detailed case study by NHS Argyll and Clyde.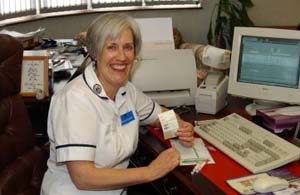 LabelTrace® and LabelTrace® Appointments (FlexaTrace) are supplied as licensed products, not sold. View licences for LabelTrace® and FlexaTrace.