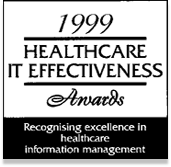 QuickTrace was singled out for praise at Health Care 99 conference having won first place in the Primary Care category of the IT effectiveness Awards. This was achieved in conjunction with Townhead Surgery in Irvine who helped develop the initial version of the system to track the 18,000 plus files in their practice.

Dr Jim Campbell of Townhead Surgery said:
"The new system saves staff time and stress in locating notes and helps improve the quality of service to patients, as their files and letters are more often readily available when they are in contact with the practice."